Rope and technology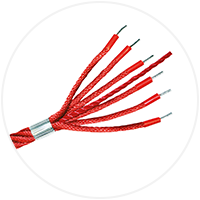 Hercules Rope
It is the "soul" of it All, the core consists of synthetic fibre or steel with a several times twisted coat. Depending on the application, we offer 6 rope diameters with 4 or 6 strands each and 3 different yarn coverings. The yarn made of polypropylene, polyamide (nylon) or polyester guarantees bright beautiful colours even after years due to its high UV resistance.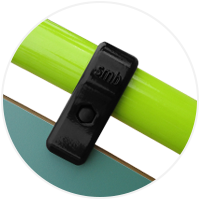 Pipe clamp type K
With the help of our aluminium pipe clamp, HPL plates, which we use for climbing walls, can be integrated into the pipe framework.
The flexibility and ability to position the pipe clamps make it possible to balance out any little imprecision's that may arise during assembly..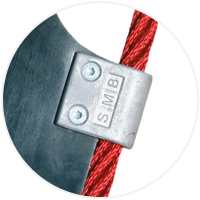 Membrane clamp
Through to our membrane clamp out of aluminum are we able to replace the membrane in case of damage without any difficulty on-site.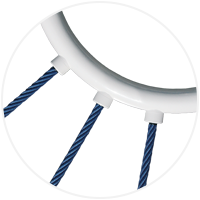 ROWOCON® bushings
An entirely newly developed, optimum connection between our Hercules ropes and pipes. This type of connection is mainly used wherever small meshed surface netting is connected with pipes. A screw on the back of the bushing is used to attach the rope to the pipe securely so that tensile forces of up to 25 kN can be transferred. The use of special safety screws makes it impossible for unauthorized persons to disassemble the nets.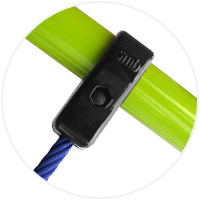 Pipe clamp type S
This clamp connects the pipes of our timber-framed equipment with ropes, climbing nets and surface nets with apertures of more than 250 mm. The ability to position the pipe clamps provides an advantage here as well.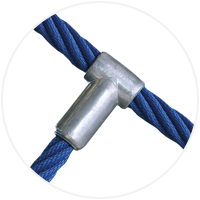 Aluminium pressing
Next to the cable quality guarantee our aluminium pressings a high durability and safety of the Playground equipment. The aluminium clamps we have developed and use guarantee the transfer of rope forces while accounting for safety, as clamps are completely closed and the contours are rounded off. Pointy corners and sharp edges are completely eliminated.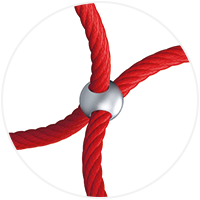 Rope connections elements
For the connections between the internal net and the outside edge and tension rope did we design a compact to optimize the rope course and to avoid a strong direction change of the Hercules rope. Thereby the hydraulically pressed aluminum parts ensure the transmission of high rope forces.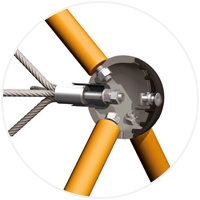 SECUCOPE® tensioning system
The tensioning system located in a protected place in the hollow balls comfortably tensions the spacenet in the tube framework.
Learn more about our tensioning system here.